History of Rockland St Mary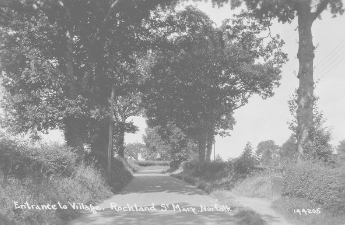 Rockland St Mary dates back to the days of Edward the Confessor and the Domesday Book in which it was recorded as Rokelunda (apparently derived from the old Norse name for Rook Grove). The township was big enough to be divided in two at the Norman Conquest and half was given to the Earl of Norfolk and the other half became the property of the Abbots of Langley Abbey.
There were originally two churches standing in the Churchyard we know today, St. Mary and St Margaret. The Church of St Margaret, which had no tower and a thatched roof, fell into ruins when the two townships were joined and became known as Rockland St Mary. The remains can still be seen in the churchyard. At the east end of the village you will find Rockland Broad which was formed during medieval peat extractions and eventual floodings. The line of parallel islands that can be seen to the northwest of the Broad are overgrown hulks of old wherries sunk in 1931 improve the water flow. The river as we know it today is a mere trickle compared with days gone by when wherries used to sale from Yarmouth to Norwich carrying cargo. Coal was brought to the local brickworks and the bricks transported to Norwich. The local reedcutters also sent their bundles via the wherries for thatching. The main industry was market gardening, products of which were taken to Norwich by horse and cart. This meant other trades like blacksmiths, saddlers and carpenters were needed.
The School dates back to 1840. The Reading Rooms, now the Parish Room was built with monies collected from the Roydon's Trust. This was specified as rent collected from land owned by them to provide a third for the Parish Priest, a third for the upkeep of the Church and a third for a soldier for the Queen. As the soldier money was never used it accumulated and was used for the Reading Room after land was donated by John Hotblack.
The Margaret Mack Room was built after fundraising by the then President of the WI, Margaret Mack.
Rockland St Mary today is a village worthy of it's history.
The History of Rockland St Mary collected by Jean Whitlam is available in the Post Office Stores priced £5.00.