Hellington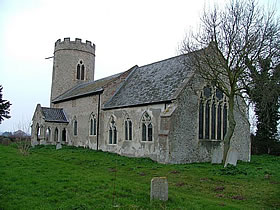 Hellington is a small village located in the district of South Norfolk, nestling between the A146 road and the river Yare approximately six miles south east of Norwich. The 2001 census recorded 24 households and a population of 69. The number of households is now 30 and there has been a small increase in the population.
The village is made up of three main clusters of dwellings located on Back Lane, Hellington Hill and Low Common. On the top of Hellington Hill stands the delightful round-towered church of St John The Baptist. This is one of Norfolk's 124 round tower churches and is a Grade 1 listed building. Of particular note is the Norman round tower together with the 13th century porch with canopied niches. There is also a fine Norman doorway and decorated windows.
Contained inside the church is a bronze war memorial to the dead and serving soldiers from World War 1.
St John The Baptist is now a redundant church and is maintained by The Churches Conservation Trust.